100% Government owned global level university
NSBM Green University is the first ever green university in South Asia and sets an example for the whole South Asia by paving the way for environmental sustainability. The university is open for both national and international student community and it has turned a new chapter in Sri Lankan higher education.
NSBM Green University is established under the Ministry of Education and it is renowned for its world-class academic offerings. This state-of-the-art university offers nationally and internationally recognized, UGC-approved degree programmes and foreign degree programmes in four faculties: Business, Computing, Engineering, Science, and Postgraduate Studies.
The university is spread over an area of 26 acres and the massive university complex was built with the intention of providing an opportunity for both national and international students to have a fully-fledged education in Sri Lanka. Currently, more than 12,000 students are studying at the university and the highly qualified local and foreign lecturers who teach at the university are committed to preparing these undergraduates to face any challenge the world has to offer. The university's commitment to excellence in education extends beyond course delivery since the university has created mutually beneficial relationships with the industry to provide students with opportunities to get exposure to the real- world workplaces.
Inspired by the vision of making Sri Lanka the best educational hub in Asia,
NSBM Green University is dedicated to gifting future leaders to the world with its fully-fledged university.
To be Sri Lanka's best-performing graduate school and to be recognized internationally.
To develop globally competitive and responsible graduates that businesses demand, working in synergy with all our stakeholders and contributing to our society.
At NSBM Green University, we firmly believe that our values reflect what we believe and guide our actions. Forming the foundation of our identity and influencing every decision and action we take, our values are ingrained in our culture to guide us on our journey towards achieving our mission, vision and objectives. While defining who we are as an organisation, our values also represent our commitment to making a lasting impact on the lives of students, staff, parents, stakeholders, and communities. Our values are,
Striving for Academic Excellence
Excellence is a continuous journey for NSBM. In pursuing excellence, we prioritise academic delivery as a driving force that impulses NSBM's mission, vision and objectives. It propels us to constantly evolve in providing top-notch university experience, developing innovative educational solutions and nurturing an effective and supportive learning environment.
Dedication to Inspiring Students to Flourish
We keep our faith in the educational journey we offer and the transformative power it holds. Keeping our students at the heart of everything we do, we regard it as true that each and every one of them possesses unique potential that deserves opportunities to flourish. Our dedication to inspiring students unlocks their full potential to thrive, overcome challenges and achieve goals.
Commitment to Fostering Positive Citizenship
As a responsible higher educational institute, we understand the significance of our role in society. Our commitment to fostering positive citizenship makes a profound impact on the communities we serve. At the same time, it drives us to engage in ethical operational practices and sustainability initiatives while fostering a culture of empathy, respect, and inclusivity in contribution to the larger community.
Within the unique and dynamic environment we cultivate at NSBM Green University, our core competencies form the basis that defines our identity, service and success. Guiding our operational approaches and strategic decisions, these core competencies steer every aspect of our work that shapes the ultimate outcome, propelling us towards a future of continued growth and success. Our Core Competencies are,
Our Culture of Continuous Improvement
With a firm belief in continuous improvement, we strive to consistently enhance and refine our practices, processes, and services through a performance culture. This commitment enables us to continually incorporate best practices into our operations and stay updated on our ability to adapt, grow, and excel while embracing innovation and encouraging the spirit of exploration and exploitation.
Our Systems Approach to Leadership & Planning
We ensure that all our decisions and initiatives are guided by a comprehensive and integrated approach to leadership and planning. It is this competency that drives our university's strategic vision and overarching objectives, allowing us to identify potential opportunities and challenges.
The Graduate Profile of NSBM Green University
Modern education terminology informs of four learning domains: knowledge (K), skills (S), attitudes, values, professionalism, and vision for life (A), and the mindset and paradigm (M) as per the K-SAM Model. One who has completed a study programme will have acquired an education with a mix of learning outcomes from the four learning domains. Further, a given learning outcome may be associated with more than one learning domain.
The core activity of NSBM Green University involves producing resourceful (competitive and responsible) graduates to the world of work, achieved through the conduct of carefully designed course modules with learning outcomes derived from the K-SAM model. Accordingly, at NSBM we expect that our graduates to be equipped with the following learning outcomes (attributes), which transform them to be resourceful citizens. The corresponding learning domain(s) associated with each learning outcome (attribute) are shown within brackets.
Master a body of knowledge and demonstrate a critical understanding of the core aspects of the major fields of study (K, S);
Propose viable solutions to problems through effective enquiry and critical analysis while developing and sustaining arguments in their field of study (S);
Become an intellectual who is open-minded and curious about current and future issues and developments in the relevant area of study (K, M);
Build the capacity to be creative and innovative (S, A);
Engage in independent learning and continuously upgrade the knowledge and skills required by the professions (K, S);
Communicate ideas clearly and disseminate knowledge effectively both in written and oral form (S);
Demonstrate personal and professional integrity and ethical behaviour (A, M);
Develop an entrepreneurial attitude with an emphasis on practical problems (A, S);
Exercise leadership in the professional environment by assuming social and civic responsibilities (A, M); and
Develop a deep urge to be in harmony with nature (A, M).
By integrating knowledge, skills, attitudes, and mindset, NSBM Green University aims to produce resourceful graduates ready to excel in the dynamic world of work, explore entrepreneurial opportunities and make a positive impact on society and the environment.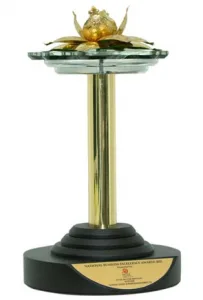 Gold Award for State Sector Services, National Business Excellence Awards 2023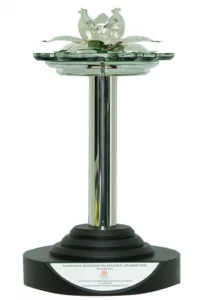 Silver Award for Excellence in Performance Management, National Business Excellence Awards 2023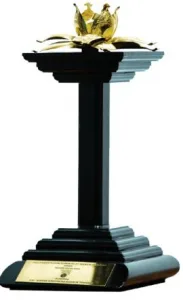 Business Excellence Award for state services sector, National Chamber of Commerce , Sri Lanka, 2018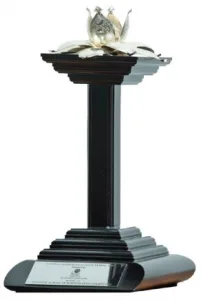 Excellence Award for State Services Sector,
National Chamber of Commerce,
Sri Lanka , 2016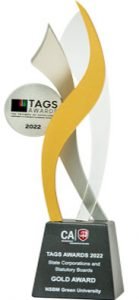 Gold Award for the Best State Corporations and Statutory Boards Annual Report at
Tags Awards 2022  

Gold Award for the Best State Sector Annual Report organized by CA Sri Lanka 2019

Gold Award for the Best State Sector Annual Report organized by CA Sri Lanka , 2017
Sustainability and Environmental Contribution

Silver Award for Best Government Institution that Contributes to the Environment 2021-2022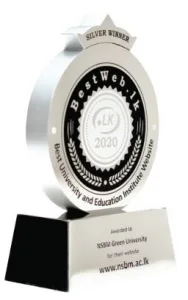 Silver Award for Best Higher Education
Website 2020 by Best Web.lk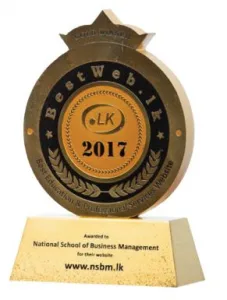 Gold Award for Best Higher Education Website 2017 by Best Web.lk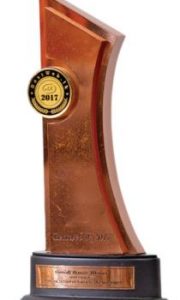 Bronze Award for the Best Website in Sri Lanka (overall) 2017 by Best Web.lk

United Nations Volunteers(UNV) 50 Country Awards – 2021 for Integrating and Promoting the Value of Volunteerism in Sri Lanka
2011
2012
2013
2014
2015
2016
2017
2018
2019
2020
2021
2022
2011

2012
2013
2014
2015
2016
2017
2018
2019
2020
2021
2022