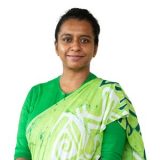 A nursing professional whose heart beats for healthcare, whose mind fuels innovation, and whose spirit ignites the flame of learning. Her legacy is a testament to the boundless possibilities of dedication and compassion in nursing. With a stellar academic journey, including a PhD (reading), MSc, BSc, and Diplomas in Nursing and Midwifery, she embodies the pinnacle of nursing education and expertise. With 15 years of dedicated service in the neonatal intensive care unit, gynecology and obstetrics wards, and labor room, she has been a guardian of life during the most critical moments. Her unwavering commitment to compassionate care, coupled with her extensive experience, has saved countless lives and brought solace to families. Beyond her clinical prowess, she has embraced the role of an educator, imparting her wisdom to the next generation of nursing professionals. Her two years of teaching experience with student nurses have shaped the minds of future healthcare heroes, instilling in them not just the knowledge but also the empathy that is the hallmark of her practice.
Causes for gestational diabetes: mothers' perspective at Sri Jayawardenapura General Hospital. 

 

Public perception towards elderly care in Dehiwala MOH area.

 
Elderly care requirements: advanced citizens' perspective in Western Province, Sri Lanka.

 

The Impact of Nature Meditation on Psychological Well-being