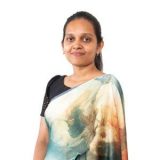 Ms. Rhythmani Perera is a graduate from the University of Sri Jayewardenepura with a First Class Honours for B.Sc. Finance in the year 2020, and she is currently pursuing her MBA degree from the University of Colombo majoring in Finance. Further, she has successfully completed Corporate Level in Chartered Accountancy Certification and is currently pursuing the Managerial level in Certified Management Accounting certification. Before joining the NSBM Green University, she has served in the Central Bank of Sri Lanka and Hayleys Advantis Limited towards Financial accounting and Financial statement analysis field. She is occupied in delivering Financial Accounting, Management Accounting, Financial Statement Analysis, Financial Management, Financial Modeling and Forecasting, and Advance Financial Accounting &Reporting modules for the undergraduate degree programs conducted in NSBM Green University.  
Currently, she is serving as the Mistress-in-charge of the Martial Arts Club of the university.
Behavioral Finance
Capital Markets and Asset Pricing
Capital Structure
Digital Finance
Conference (Full Paper) Publications
Perera, R., & Gunathilaka, C. Investor Demographics and Investment Decision: Behavioral Bias in Colombo Stock Market. In Student Conference in Finance 2021 (p. 29).
Personal financial behavior
Digital Divide and Education
Digital Financial inclusion toward capital structure decisions
Research Committees and Roles
Track Coordinator – 4th International Conference in Business Innovation at NSBM Green University, Sri Lanka (ICOBI 2021)
Editorial Assistant – International Journal of Contemporary Business Research, Bi-annual research journal published by the Faculty of Business, NSBM Green University, Sri Lanka