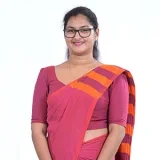 Ms. Rekha Kulasekara completed her Bachelor's Degree in Business Management, specializing in Industrial Management, in 2020 with First Class Honours (GPA-4.00). She received gold medals for the best overall performance in the Faculty of Business, as well as the best performance award for the BSc in Business Management (Industrial Management) (Special) degree programme.
She was an active undergraduate who represented the batch for 4 years and is a proud alumna of NSBM Green University. She is also a product of Musaeus College, Colombo. She started her career as a Manufacturing Excellence trainee at Piramal Glass Ceylon PLC and is currently serving as a Lecturer attached to the Department of Operations and Logistics, Faculty of Business at the NSBM Green University.
She is the gold medalist of the Diploma in Business Information Technology. Moreover, she is currently reading her MBA in Supply Chain Management at the University of Moratuwa and Lean Six Sigma Black Belt at Lean Six Sigma Company Asia.
Beyond being an academic, she is the Programme Coordinator of the Master of Business Administration offered by the Faculty of Postgraduate Studies and Professional Advancement of NSBM Green University, UGC Course Coordinator for the Department of Operations and Logistics, and Mistress-in-Charge of the Industrial Management Circle.
Lean Manufacturing & Six Sigma
Occupational Health & Safety
Operations Management
Quality Management
Supply Chain Management
Sustainable Energy Consumption
Member of the Chartered Institute of Logistics and Transport (MILT)
Best overall performance in the Faculty of Business in the year 2020 (NSBM)
Best performance award for BSc in Business Management(Industrial Management) (Special) Degree (2020 – NSBM)
Best presenter, gold medal for Diploma in Business IT in 2016/17 (SIBT)
Can Sri Lanka be a Net-Zero Nation by 2050? – Current Renewable Energy Profile, Opportunities, Challenges, and Recommendations (Isuru Koswatte, Chamil Abeykoon , Janith Iddawela, Rekha Kulasekara, Praveen Ranaweera) Status – Submitted the paper to Journal of Cleaner Energy Systems – Q1
Impact of lean manufacturing practices on sustainability performances in SMEs in Sri Lanka; special reference to apparel industry (Rekha Kulasekara, Praveen Ranaweera)