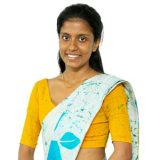 In 2016, Ms. H.T. Naduni Madara earned her Bachelor of Laws degree with honors from Staffordshire University, UK. Following her undergraduate studies, she pursued her professional legal education at Sri Lanka Law College and was admitted to the Bar as an Attorney-at-law of the Supreme Court of Sri Lanka in 2018. In addition to that, she furthered her legal expertise by completing the Master of Laws in International Commercial and Business Law at the University of West London with a Merit.
Before entering into academia, Ms. Madara built a career as a Legal Practitioner and/or Junior Counsel attached to the Chamber of Mr. Chandaka Jayasundere, President's Counsel for 5 consecutive years; specialized in Commercial, Banking, Shipping, Fundamental Rights, IP (Interlectual Property), Insurance, Corporate matters. She also gained experience as a part-time tutoring  with Veritas Academia for 2 years by conducting online classes for Sri Lanka Law College examinations, prior to joining NSBM.
Presently, she is a faculty member within the Department of Legal Studies at the Faculty of Business at NSBM Green University.