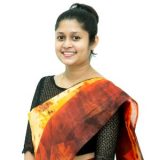 Maneesha Dias is an academic and a seasoned professional with over four years of experience in the field of Supply Chain management and business information systems. Her expertise lies in the integrated aspects of operations, supply chain management, ERP systems and data analytics. Her academic journey includes the Global Academic Excellence Scholarship she received from Tampere University Finland for Master's degree in computer science – Statistical Data Analysis. She also holds a Bachelor of Science in Management and Information Technology specialized on Operations and Supply Chain Management from the University of Kelaniya, Sri Lanka. Her outstanding performance earned her a Gold Medal for Outstanding Academic Achievement and a place on the Dean's List throughout her degree program. Furthermore, she holds professional qualifications in Lean Six Sigma and human resource management. She brings a unique blend of academic rigor and practical experience to her teaching, research, and industry engagements.
Supply Chain analytics
Business process optimization
Simulation for business decision making
MILT – The Chartered Institute of Logistics and Transport Sri Lanka
Gold Medal – Outstanding Academic Performance – University of Kelaniya, Sri Lanka
Global Academic Excellence Scholarship – Tampere University, Finland
Conference (Full Paper) Publications
Dias, M., Bopage, G., Bandara, O. & Rupasinghe, T. D., 2017. Augmented Virtuality (AV) based Layout Planning Approach : A Conceptual Framework for the Apparel Industry,  proceedings of the 14th International Conference on Business Management,Colombo , pp. 720-745.
Dias, M., Vidanagamachchi, K. & Nanayakkara, J., 2018. Hybrid Optimization of Two-tier logistics framework for cost-benefit analysis – A systematic Review of Literature on Megacity Logistic, proceedings of South Asia Conference on Multidisciplinary Research,Colombo, pp. 149-156.
Dias, U. G. M. D., Tharaka, V. K. & Nanayakkara, J. N., 2019. A Simulation Model to analyze Sri Lankan megacity logistics behaviour : Megapolis logistics of Sri Lanka, proceedings of IEEE International Research Conference on Smart Computing and Systems Engineering, Colombo, pp. 212-219.
Jayawardane, K., Jayawardane, S. & Dias, M., 2022. Impact of Lean Manufacturing on Inventory Turnover Performances: Evidence From the Sri Lankan Apparel Industry, proceedings of 2022 Moratuwa Engineering Research Conference (MERCon), Colombo, pp. 1-6.
Enhancing Supply Chain Resilience through Data Analytics: Integrating IoT and ERP Data for Actionable Decision-Making