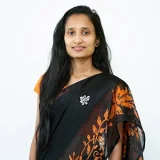 Ms. Lakshani Jayasinha is a B.Sc. (Hons) Biological Sciences graduate from the Faculty of Science, University of Ruhuna, Sri Lanka. She has got a first-class honours degree and was awarded Gold Medals for being the best performing student in each subject area she followed and for obtaining the best GPA for the degree of Bachelor of Science graduating in 2016. She was also awarded several academic scholarships for her outstanding academic performance. She obtained her Master of Science in Clinical and Health Psychology degree from the University of West London, UK. Currently, she is reading for her MPhil/PhD in Clinical Psychology at Kothalawala Defense University of Sri Lanka. She is also reading for a Diploma in Counselling and psychotherapy.  
Her research interests revolve around clinical psychology and focuses mainly on maternal psychological health and wellbeing. She aims to study mental health interventions to improve the maternal mental wellbeing. 
She has served as a Demonstrator in the Faculty of Science, University of Ruhuna and as a Lecturer in Psychology in private campuses in Sri Lanka during her five years' experience in academia. In addition, she has worked as a Child Psychologist and has worked as a Resource Team Member for the Department of Psychology and Counselling, Open University of SL. During her internships, she has trained herself in the roles of a psychologist, counsellor and a researcher.  
Mental health and wellbeing
Biopsychology
Meditation
Digital health interventions
Jayasinha, B.L.E. and Perera, B.N. 2019. Exploring the relationship between depression and marital satisfaction amongst pregnant women residing in southern Sri Lanka. Sri Lanka Journal of Psychiatry 10 (1), pp 4-10
Conference (Full Paper) Publications
Balasuriya, V. and Jayasinha, B.L.E. 2022. The Impact of the Working Hours on the Work-Life Balance of Remote Workers in Sri Lanka during COVID-19. 5th International Conference on Business Innovation, pp 469-477.

Jayasinha, B.L.E; Wegiriya, H.C.E. and Wickramasinghe, M.G.V. 2018. Comparative analysis of stress, major stressors and coping mechanisms in a selected group of undergraduates of University of Ruhuna. 5th Ruhuna International Science and Technology Conference, p 45
Development of a m-based mindfulness intervention for maternal mental wellbeing.
Exploration of the relationship between mindfulness and cerebral asymmetry in meditating and non-meditating adults in Sri Lanka (Submitted for journal publication)