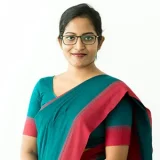 Kalni Peiris, is a graduate from the University of Ruhuna with a First-Class BBA (Hons) in Marketing and is also a product of Musaeus College, Colombo. At present, she is reading for her M.Sc. in Management at the University of Sri Jayawardenepura. She commenced her academic career at the University of Ruhuna as an Assistant Lecturer attached to the Department of Marketing, Faculty of Management and Finance. Also, she pursued her corporate career as an E-commerce Intern at the Sri Lanka Tailor-Made of Jetwing Travels (Pvt) Ltd.
Beyond being an academic, she is an Associate Member of the Chartered Institute of Marketing, United Kingdom and also has completed up to Level Three (Ofqual, NQF) of the Associated Board of Royal Schools of Music, United Kingdom in Piano Music Performance and Theory since performing on the piano and singing are her ultimate passions apart from being an academic. Further, during her university career she obtained a Certificate in Business Accounting by the Chartered Institute of Management Accountants, United Kingdom. Being an academic, her research interests include Tourism and Hospitality Management, Digital Marketing, Green Marketing, Consumer Psychology, Subliminal Marketing and Influencer Marketing.
Consumer Behavior
Digital Marketing
Neuromarketing
Consumer Psychology
Conference (Full Paper) Publications
KT Dissnayake, K Peiris, MYN Gunawardhana, 2021. The Impact of Online Learning Facilities to the Effectiveness of Emergency Online Learning: A Case Study on NSBM Green University Town, Sri Lanka. Homagama, Sri Lanka, National School of Business Management. Available at: https://www.researchgate.net/publication/359355825_The_Impact_of_Online_Learning_Facilities_to_the_Effectiveness_of_Emergency_Online_Learning_A_Case_Study_on_
NSBM_Green_University_Town_Sri_Lanka
HKH Peiris, GPK Nishadi, 2019. Impact On Tourist's Switching Intention with The Mediating Effect of the Tourist's Attitude Towards Greenwashing: Special Reference to Sri Lankan Hotel Chains. Matara, Sri Lanka, University of Ruhuna. Available at:https://www.researchgate.net/publication/341205914_Impact_of_Greenwashing_on_Tourist's_Switching_Intention_with_the_Mediating_Effect_of_the_Tourist's_Attitude_
towards_Greenwashing_Special_Reference_to_Sri_Lankan_Hotel_Chains
K Peiris., Effectiveness of Instagram Travel Influencers and Travel Intention of First-Time Inbound Visitors to Sri Lanka.
K Peiris., A Stimuli Model using AI for Marketers on Emotion Influencing
K Peiris., Millennial Social Media Users' First-Time Visiting Intention to Hotels: the Moderating Role of Travel Influencer Following Behavior
K Peiris., Millenial Toursits' Attitude Towards Smart Tourism Technologies Resulting Visiting Intention
K Peiris., The Mediating Effect of Imagination Proclivity on the Relationship between Effectiveness of Instagram Travel Influencers and Travel Intention of First-Time Inbound Visitors to Sri Lanka.