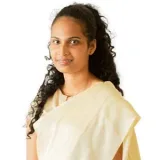 Ms. Dilki Hansika is a graduate of University of Colombo, Faculty of Management and Finance with First Class Honours, securing the highest GPA in the Department of Management and Organizational Studies as 3.895 out of 4.
Currently, she is serving as a temporary lecturer attached to the Department of Management in the Faculty of Business in NSBM Green University by delivering modules in scopes like General Management, Organizational studies, and Management Processes.
Further, she is reading for Diploma of Banking and Finance in the Institution of Bankers of Sri Lanka and expects to continue her further academic with Master of Business Administration.
Prior joining with NSBM Green University, she gained 2 years corporate experience by working in Bank of Ceylon, Road Development Authority and AusAsia Australian Gateway. She is also a product of Ferguson Girls High School in Ratnapura.
She is interested in research areas like Operational Management, Manufacturing Optimization, Human Resources Management and Organizational Behavior.
Business Management
Organizational Behavior
Operational Management
Entrepreneurship
Human Resources Management 
Institution of Bankers of Sri Lanka (IBSL) 
Factors associated with Manufacturing Optimization of the Tire Rebuilding industry in Sri Lanka
Factors Associated with Employee Resilience, and consequences in the Government Sector in Sri Lanka.