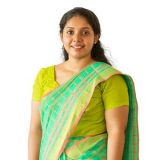 Ms. Charmain Patrick graduated from the Faculty of Management and Finance, University of Sri Colombo with a First-class Honours in Bachelor of Business Administration in Accounting securing a GPA of 3.97 out of 4.00. She was awarded Gold medal for the best performance in the BBA Accounting Degree programme, nominated for the Academic Excellence award and has also received scholarships for her academic excellence. Ms. Charmain Patrick is currently reading for her MBA in Accounting & Information at University of Colombo and she is also following Chartered Accountancy – Strategic Level (ICASL).
She was an active undergraduate participating in many extracurricular activities, sports and clubs and societies representing the University at intra and inter University levels. She is also a proud product of Bishop's College. Prior to joining NSBM Green University Town she has worked at University of Colombo as an Assistant Lecturer for over one year. Ms. Charmain has also pursued her corporate career in the filed of accounting and audit for over three years in companies like KPMG and other audit training organizations. She has also successfully completed Sage Business Cloud Online Training Programme, BEC Higher Cambridge English etc.
Her academic teaching responsibilities are primarily linked to modules in the field of Accounting & Finance. She is the Mistress-in-charge of the Netball Club and Catholic & Christian Society. Her research interests are inclined towards Auditing, Management Accounting, Financial Accounting, Taxation etc.
Auditing
Taxation
Financial Accounting
Management Accounting
Conference (Full Paper) Publications
Patrick, C.H. and Samanthi, D. (2021b). Changes in the Fundamentals of Auditing: Case Evidence from a Big Four Audit Firm in Sri Lanka. In: The 16th International Research Conference on Management and Finance (IRCMF 2021). [online] University of Colombo, pp.76–101. Available at: https://mgmt.cmb.ac.lk/ircmf/2021/wp-content/uploads/sites/2/2021/12/IRCMF-Proceedings-2021_compressed.pdf#page=96.
Patrick, C.H. and Samanthi, D. (2021a). Changes in the Fundamentals of Auditing: Case Evidence from a Big Four Audit Firm in Sri Lanka. In: The 1st Annual Accounting Undergraduate Research Symposium (AAURS 2021). University of Colombo
 Changes in the Fundamentals of Auditing: Case Evidence from a Big Four Audit Firm in Sri Lanka – Working on publishing in an international journal
Impact of Digital Technologies on Operational Performance of Banking Industry in Southeast Asia – A Systematic Review (ICOBI 2023).
Improving Labour Productivity for Global Competitiveness at XYZ Tea Exports Company