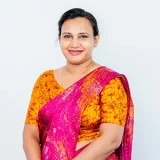 Ms Anne Pathiranage is currently reading for a PhD at Stockholm University, Sweden, in teachers' digital literacy and institutional involvement in enhancing technology-integrated teaching. She has completed her Master's at the University of Moratuwa in Business Statistics. Further, she achieved First Class Honors in B.Sc. Accountancy from the University of Sri Jayewardenapura. In addition, she has completed a Diploma in Counselling and Psychology at the faculty of medicine at the University of Sri Jayewardene.
Her research portfolio comprises international and local publications on Accounting Education, Digital Literacy and Technology use in education. Ms. Anne has over ten years of experience in higher education and is currently serving as the Head of the Department of Accounting and Finance. Her teaching areas are Financial Accounting, Fundamentals of Mathematics, Quantitative Techniques, Business Statistics, and Computer Based Accounting at NSBM Green University Town. Further, she actively engaged in enhancing the professional practices of the student community in the Faculty of Business.
Teachers Digital Literacy
Technology Enhanced Teaching
Accounting Education
Pathiranage, A. and Karunaratne, T., 2023. Digital Capabilities of Teachers: A Comparative Case Study. Journal of Higher Education Theory & Practice, 23(5).
Conference (Full Paper) Publications
Pathiranage, A., & Karunarathne, T. (2022, October). Investigating Teachers' Transition From Traditional to Online: A Case Study on Accounting Teacher Perspectives. In European Conference on e-Learning (Vol. 21, No. 1, pp. 348-356). Academic Conferences International Limited.
Alwis, S., & Pathiranage, A. (2022) Impact of Career Indecision on University Student's Academic Engagement: Mediating role of Hope, International conference of Business Innovation (ICOBI), NSBM Green University.
Pathiranage, A. (2022) Aligning Student Behavior, Pedagogy and Academic Performance Thorough Learning Analytics: A systematic Methodological review, International conference of Business Innovation (ICOBI), NSBM Green University.
Teachers' Agency in Technology for Education in Pre- and Post-COVID-19 Periods: A Systematic Literature Review, Manuscript submitted to the Education Science Journal and currently under review.