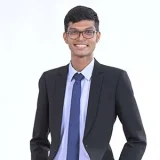 Mr. Praveen Ranaweera is a proud graduate of NSBM Green University with a first-class in Bachelor of Science in Business Management (Logistics Management) (Special) and further he is also a product of Royal College, Colombo. He started his career as a Teaching Assistant at the same university and is currently serving as a Lecturer attached to the Department of Operations and Logistics, Faculty of Business at the NSBM Green University.
Mr. Praveen Ranaweera is presently dedicated to advancing his academic journey by pursuing an MBA in Supply  Chain Management from the University of Moratuwa, demonstrating his commitment to scholarly achievement. Moreover, he holds a Diploma in International Relations awarded by the Bandaranayake Center for International Studies.
Beyond being an academic, Mr. Praveen Ranaweera is the Node Leader of Operations and Logistics Management Degree offered by the University of Plymouth, United Kingdom and also the Programme Coordinator of  the Master of Business Studies and Postgraduate Diploma in Business Management and Postgraduate Diploma in Human Resource Management offered by the Faculty of Postgraduate Studies and Professional Advancement of NSBM Green University. In addition to that, he is the Master in Charge of the Volleyball Club of NSBM. 
Sustainable Transportation
Supply Chain Management
Sustainable Procurement
Sustainable Consumption and Manufacturing 
MCILT – Member of Chartered Institute of Logistics and Transportation 
Can Sri Lanka be a Net-Zero Nation by 2050? – Current Renewable Energy Profile, Opportunities, Challenges, and Recommendations