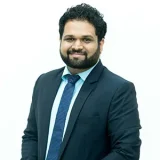 Mr.Kasun Tharaka Dissanayake graduated from the Faculty of Management Studies and Commerce of University of Sri Jayewardenepura with a Bachelor of Science in Finance with a First class (2015). He obtained a Master of Science in Applied Finance degree from the same university (2019). Mr.Dissanayake earned a certificate of Business Accounting from Chartered Accountants of Sri Lanka (2014). He received the B.A Kuruppu gold medal for the best student of Isipathana College (2009) and won The late Mr. B.G Chandrasekara memorial trophy for the best A/L results of the commerce stream of Isipathana College (2009).
Mr. Dissanayake joined the Faculty of Business of NSBM in 2015 September, after having one and a half years of corporate experience at the Central Bank of Sri Lanka (Internship), WNS Global Services, and Red Dot Tours Pvt Ltd.
Currently, he is the Head of the Department of Economics and Decision Sciences at the Faculty of Business. Mr.Dissanayake held the positions of the course director of the certificate program offered by the Faculty of Business ( 2015-2019) node leadership for the BSc (Hons) Accounting and Finance degree offered by Plymouth University UK ( 2015 – 2020) and Head of Student Affairs (2020 -2023). He is currently occupied in delivering Economics, Accounting, and Finance modules for undergraduate and postgraduate studies.
His main research interests are in the broad areas of Finance and Economics such as Corporate Governance, Sustainability, Circular Economy, and Digital transformation. 
Corporate Governance Dividend Policy
Working Capital Management
Financial Performance of firms
Capital Structure Financial Markets
Dissanayake,D. M. K. T., & Dissabandara, D. B. P. H. (2021). The impact of board of directors' characteristics on dividend policy: Evidence from a developing country. Corporate Governance and Sustainability Review, 5(2), 44-56. https://doi.org/10.22495/cgsrv5i2p4
Conference (Full Paper) Publications
Joshep, S. and Dissanayake , D.M.K.T (2022) "The Migration Intention of the Youth of Sri Lanka: A Concept Paper,"
INTERNATIONAL CONFERENCE ON BUSINESS INNOVATION (ICOBI), pp. 372–376.
https://www.researchgate.net/profile/KasunDissanayake/publication/365730482_The_Migration_Intention_of_the_Youth_of_Sri_Lanka_A_Concept_Paper/links/6380a39b48124c2bc66be161/The-Migration-Intention-of-the-Youth-of-Sri-Lanka-AConcept-Paper.pdf
Dissanayake, D.M.K.T, Pieris, K. and Gunawardena, Y., (2021), The Impact of Online Learning Facilities to the Effectiveness of Emergency Online Learning: A Case Study on NSBM Green University Town, Sri Lanka.In:INTERNATIONAL CONFERENCE ON BUSINESS INNOVATION. Homagama: NSBM Green University, pp.08-15.
Dissanayake, D.M.K.T & Harsha, A.S (2019), The Impact of public transportation on tourists' satisfaction: Case of Colombo Fort to Galle, 9th International Conference on Business and Economics https://www.research.lk/publications/researchpapers/dmkt-dissanayake/D-M-K-T-Dissanayake.pdf
Dissanayake D M K T (2019), The impact of firm attributes on selecting the auditor: Evidence from Sri Lanka, 2nd International Conference on Business Innovation, pp.94-97.https://www.nsbm.ac.lk/wp-content/uploads/2020/07/ICOBI2019-Proceedings.pdf
Dissanayake, D.M.K.T and Mendis, A.U (2019). Working Capital Management and Firm Performance: Evidence from Food and Beverage sector of Colombo Stock Exchange, International Conference on Business Research, pp.98-105.http://dl.lib.uom.lk/handle/123/14755
Dissanayake D M K T and Dissabandara, D B P H. (2018), Board Characteristics and Dividend Policy -The Study of Banking and Finance Sector in Sri Lanka, International Conference on Business Innovation, 1(1), pp.46-51.https://www.nsbm.ac.lk/wp-content/uploads/2020/07/ICOBI-2018-Proceedings.pdf
Dissanayake D M K T and Dissabandara D B P H. (2018). The Impact of Board Characteristics on Dividend Policy:Evidence from Manufacturing sector of CSE. 3rd Interdisciplinary Conference of Management Researchers, pp.58-66.http://repo.lib.sab.ac.lk:8080/xmlui/handle/123456789/116
The Evolution of Corporate Governance in Sri Lanka: A Review
The impact of corporate governance practices on firm contribution towards the sustainable development agenda 2030
The Migration Intention of Youth: The case of Sri Lanka ( Joint Paper with Shehani Joshep)