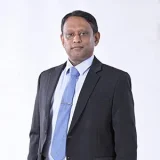 Mr. Chamara Disanayake graduated from the Department of Computer Science & Engineering, University of Moratuwa in 2002 and completed his Master's (Research) Degree in computer science in 2005 from the same university. He obtained his second masters in Master of Business Studies in 2015 from the faculty of post graduate studies, University of Colombo.
Chamara started his professional career as a systems engineer in 2005 and continued his career in computer systems and networking industry for over 15 years. He became the head of IT at LK Domain Registry which manages the country code top level domain lk domain for Sri Lanka. While serving the IT industry, Chamara started his academic career in 2007 as a visiting lecturer attached to the Computer Science and Engineering Department, University of Moratuwa. He has over 13 years of teaching experience in undergraduate and post graduate academic programs at the main technical universities in Sri Lanka in Network and Systems engineering curriculums. Being an IT professional Chamara has contributed many International and local conferences in the capacity of a speaker and a lecturer.
Chamara joined the academic staff of the faculty of Computing of NSBM Green University in 2021 as a senior lecturer attached to the department of Network and Security.
TDB Weerasinghe, C Disanayake (2018) Usage of RC4 cipher in SSL configurations in web portals of Sri Lankan banking/non-banking financial institutes and Awareness levels of relevant staff about it. 2018 National Information Technology Conference (NITC), 1-6

TDB Weerasinghe, C Disanayake (2018) A research study: usage of RC4 stream cipher in SSL configurations of web servers used by Sri Lankan Financial Institutes. International Journal of Cyber-Security and Digital Forensics (IJCSDF) 7(2): 111-118 The Society of Digital Information and Wireless Communications (SDIWC), 2018 ISSN: 2305-001, http://dx.doi.org/10.17781/P002375
A Mini Security Framework for LAMP Stack Deployments on the Cloud