Department of Mechatronic and Industrial Engineering is offering very modern industry demanding B.Sc. Engineering Honors Degree in Mechatronics Engineering. Our engineering students get exposed to Industry Automation, Robotics, Manufacturing, Manufacturing Process Designing, Electronics and System Designing areas, where highly demanding areas of the smart industry of the future and are evolving today with the 4th Industry revolution occurring today. We are offering modern laboratory facilities, to a certain that can be connected via online mode even. This unique opening is enhanced with highly qualified academia, leading-edge laboratory complex and industry partnerships. Adhering to professional engineering practices and being touched with neighbour disciplines mould our graduates career-ready to head start with the fourth industrial revolution – Industry 4.0.
Department Head's Message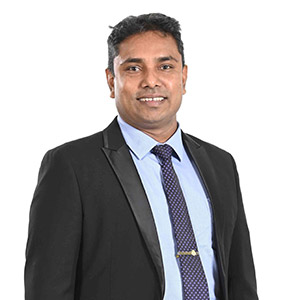 The ultimate goal of our programmes is to produce professional engineers who will be ready to accept challenges when the society, country or the world is facing any critical condition. Thus, our graduates will bring the country to its highest peak of development state on par with the international industries and developed nations. In the future, they will perform their best, holding professional engineering positions in smart industries by amalgamating the skills related to their domains. Our leading-edge facilities and research move hand in hand with continuously advancing industry. Above all, our culture maintains professionalism, ethics and a sense of responsibility to nurture future generations.
Dr. Chandana Perera
Dean – Faculty of Engineering / Senior Lecturer
Department of Mechatronic and Industrial Engineering has a dynamic environment where new updates take place in line with advancing technology. Multiple co-curricular and extracurricular events in the department calendar give openings to improve technical literacy and discover student talents while providing a showcase for innovative ideas.
Department Head
Dr. Chandana Perera
+94 (11) 544 6100
hod.mie@nsbm.lk
New Enrollments
Tell: +94 (11) 544 5000
Email: inquiries@nsbm.ac.lk
WhatsApp: +94 71 244 5000
Department Secretary
Mr. Priyankara Gamage
+94 (11) 544 6104
eese@nsbm.ac.lk / priyankara@nsbm.ac.lk