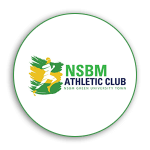 The Athletics Club at NSBM Green University is a prominent sports club within the Sri Lankan university community. Throughout its history, the NSBM Athletic Club has served as a training ground for many skilled and accomplished athletes, many of whom have achieved national recognition and earned gold medals. The club supports both elite and emerging athletes in the NSBM community to achieve sporting and academic excellence.
The NSBM Athletic Club is the preferred athletics club for both present and former NSBM students. It offers them the chance to take part in all events organised by the club, which serves to bring together alumni and current students. This fosters a sense of unity and helps to maintain the university's reputation, while also extending it to a broader sports community within the higher education sector.
The NSBM Athletic Club, recognised as one of the most formidable university athletic clubs in Sri Lanka, is pleased to announce the launch of "NSBM U-Sports Athletic Championship," an inter-university athletic championship that welcomes participation from all higher educational institutions, including both state and non-state campuses throughout Sri Lanka. This event, facilitated by the NSBM Athletic Club, aims to provide a platform for universities to showcase their athletic competence and promote the growth of university athletics.
The NSBM Athletic Club provides its members with access to state-of-the-art on-campus facilities, including a fully equipped gym area, a swimming pool, and all necessary sports equipment. Additionally, members benefit from the guidance of fully qualified coaches who offer expert training advice. The club takes great pride in its ability to welcome individuals of all ages, abilities, and standards who are interested in participating in sports activities for the purpose of enjoyment. This includes runners, throwers, jumpers, walkers, and NSBM students who wish to engage in athletic pursuits. While the club celebrates the ongoing success of its top-performing athletes, it remains committed to fostering a welcoming environment for all NSBM students.
Master/Mistress in Charge - Academic Staff Members
Mr. Venura Colombage/FOB
Ms. Aushadharie Vidanalage/FOB
Names of President /Vice President /Captian
Male Captain – Naveen Perera
Female Captain – Aaradhi Perera
Male Vice Captain – Sasindu Adhikari, Linuka Rathnappriya
Female Vice Captain – Umasha Jayarathne, Udari Bandara
President – Vinsuka Gammanpila
SLIIT Relay Competition – 2023
Overall Runner-up (University Boys Category) Overall 2nd Runer-up (University Girls Category)
4 x 200m (University Boys Category) – Gold Medal
Medley Relay (University Boys Category) – Gold Medal
SLTC Athletic Meet (2022)
2nd Runners up (Invitation Relay)
NSBM U-Sports (2022) 
Mens Overall 2nd Runners up